The Choice Rx Solutions Advantage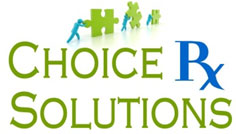 Choice Rx Solutions is a National Pharmacy Benefit Management company.
Choice Rx Solutions utilizes the expertise of your local Pharmacist and information technology to improve the practice of Pharmacy Benefit Management.
 Choice Rx Solutions utilizes a real-time claims processing system that is flexible and scalable.  Choice Rx Solutions provides 100% transparent customized solutions to payers big and small.
 It's your members, your plan design and your choice — Choice Rx Solutions, provides the highest level of customer service, and furnish transparent healthcare solutions that resolve their healthcare needs.
To learn more about the Choice Rx Solution, please Download our detailed brochure.
We have updated our marketing materials to include ePublications.  Below are the links that will open a long and short version of our marketing materials electronically.  These are a quick and easy way to send potential interested parties Choice Rx Solutions information without having to mail the entire marketing packet, plus they are cost saving and innovative.
http://age-pub.com/us221/40113_ChoiceRx_ePub_full
http://age-pub.com/us221/40113_ChoiceRx_ePub_short
---
We are grateful to have this opportunity to speak to you about managing your Pharmacy Benefits. We look forward to meeting you and discussing how we can lower your prescription benefit costs. Feel free to contact Dino Dibella (ddibella@rxchoicesolutions.com) with any questions at 217.720.3085 or fill out our form below.