NCPA's Doug Hoey touts pharmacist savings, PBM reforms in Congressional testimony: The House Energy and Commerce Subcommittee on Health held a Dec. 13 hearing entitled "Examining the Drug Supply Chain." The 10-person panel included the entire supply chain, from manufacturers to patients. NCPA CEO Doug Hoey told lawmakers how better integration of community pharmacists can help improve outcomes and lower overall health care costs and identified a range of controversial PBM practices including pharmacy DIR fees that warrant greater transparency, oversight and action. (More detailed summary at end of this email.) 
Republican House and Senate conferees agreed to final version of tax bill, which will head to final passage next week: The language was finalized late Thursday night. One remaining holdout on the bill was Sen. Marco Rubio (R-FL), due to concerns of the child tax credit. However, a compromise was reached as more money was put towards refundability of the child tax credit, expanding that part to $1,400, from $1,100. The expansion of the refundability piece, which is part of the $2,000 child tax credit in the tax bill, was made explicitly to secure Rubio's support, which he confirmed Friday afternoon. The exact timeline for passage remains fluid, but it appears that the House will go first on Monday and will then move to the Senate which will have to deal with several procedural hurdles and possible absences from hospitalized Senators. The full language of the tax bill was just released Friday evening. Initial reports indicate that the package could benefit many owners of community pharmacies structured as pass-through businesses.
President Trump signs Defense authorization bill into law, including MAC provision: The 2018 National Defense Authorization Act features a requirement that the TRICARE retail pharmacy program contractor update its MAC pricing lists every seven days so that lists accurately reflect the market price of acquiring the drug. NCPA strongly supported the MAC provision. 
NCPA urges support for CMS Part D proposed rule: The proposal includes several NCPA-supported provisions, including a potential requirement to shift retroactive pharmacy DIR fees to point-of-sale instead. To demonstrate support, and counter potential PBM opposition, NCPA has developed sample comments for community pharmacists to personalize and submit to CMS. Please encourage community pharmacists to use them and remind them to please customize the message with personal experiences prior to submission. In addition, NCPA has organized a sign-on letter for pharmacy stakeholder organizations and allies to document their support. For more information, contact NCPA's Michael Rule. NCPA is also developing formal comments to submit before the Jan. 16, 2018 deadline. 
DEA urges tweaks to 2016 opioid law: At a Senate Judiciary Committee hearing Dec. 12, Demetra Ashley, DEA Acting Assistant Administrator, Diversion Control Division, asked Congress to modify the Ensuring Patient Access and Effective Drug Enforcement Act, which was unanimously enacted last year. She said that, while DEA is aggressively using the tools at its disposal, the law has made it more difficult to issue Immediate Suspension Orders (ISOs). Ms. Ashley also described agency enforcement (including involuntary surrender of 10 pharmacy registrations) and awareness efforts (educated 13,300 pharmacists/pharmacy techs and upcoming enhanced focus on doctors). Lawmakers largely responded along party lines, with Democrats suggesting repeal of the law and Republicans favoring keeping it. In defending the law, Sen. Orrin Hatch (R-Utah) recalled issues raised prior to its enactment and cited a 2014 NCPA survey of community pharmacists describing significant problems with legitimate patient access to opioids. The second panel featured witnesses who strongly criticized the law (Maryland's attorney general and NABP's Carmen Catizone) as well as a chronic pain patient advocate from the National Fibromyalgia & Chronic Pain Association concerned about patient access and the Healthcare Distribution Alliance's John Gray, who defended the law, citing a GAO report and concerns of community pharmacists, and flagging the medical community as a potential source of the actual problem. Related, The Washington Post and 60 Minutes are scheduled to publish another joint investigative story on the topic Sunday. NCPA will continue to monitor the Congressional dialogue and present community pharmacists' perspective. 
FDA improvements in REMS requirements endorsed by NCPA: In comments to the agency, NCPA VP Pharmacy Affairs Ronna Hauser described how "our members continue to experience challenges with complying with myriad REMS requirements. We are supportive of the revised draft guidance and how it will standardize REMS information and better define who is responsible for meeting the differing REMS requirements. By reorganizing REMS documents in this way, burdens on healthcare providers and patients will be reduced." 
CMS announces Part D special enrollment period for select beneficiaries: Medicare beneficiaries impacted by the hurricanes in Puerto Rico and the U.S. Virgin Islands as well as the California wildfires will have until March 31, 2018 to enroll in or make changes to their prescription drug coverage. More details are available in CMS' announcement.
NCPA joins opposition to health insurance tax: NCPA, along with 20 other small business-focused groups and associations, sent a letter to two Congressional committees urging them to suspend the Health Insurance Tax for 2018 and 2019. The "Stop the HIT" Coalition advocates on behalf of 29 million small businesses, their employees, and the self-employed. The letter urges Congress to stand on the side of small business by taking immediate action on the Health Insurance Tax suspension for all fully-insured plans as part of a year-end legislative package. 
Senate health leaders seek state solutions to opioid epidemic: Senate HELP Chairman Lamar Alexander (R-Tenn.) and Ranking Member Patty Murray (D-Wa.) wrote to governors and state insurance commissioners to ask for input on recently enacted federal laws and what additional changes, if any, states recommend. The Senators request responses by Jan. 15, 2018 and indicate they are working to "develop bipartisan, common-sense solutions" providing states with the "tools and flexibility" to address the opioid crisis.
PBM practices questioned at Senate hearing: At the Senate HELP Committee's third hearing on prescription drug spending, Chairman Alexander continued to question the need for rebates as patients face higher price increases at the pharmacy than the overall increase in prescription drug costs. In addition, Sen. Susan Collins (R-Maine) again expressed concern over PBM-related "gag clauses" and witnesses Norm Augustine and David Mitchell urged more transparency into PBMs.
In the states:
MACPAC Public Meeting covers Prescription Drug Spending and Outpatient Drug Rebates: The Medicaid and CHIP Payment and Access Commission Public Meeting this week included sessions on strategies for managing prescription drug spending and potential recommendations on Medicaid outpatient drug rebates. Discussions focused on the Medicaid Drug Rebate Program and covered a potential shift to value-based purchasing and outcomes-based contracting for Medicaid prescription drug models. MACPAC analysts presented on three potential recommendations for changes to the MDRP, including correcting the line extension formula in the ACA, excluding authorized generics from brand drug AMPs and removing the blended AMP requirement, and strengthening oversight and enforcement mechanisms for the rebate program. NCPA will continue to monitor MACPAC recommendations and discussions for their downstream impact on independent community pharmacies.
NCPA submits comments to California Board of Pharmacy on compounding regulations: NCPA comments to the California Board of Pharmacy Enforcement & Compounding Committee recommended closer alignment of the Board Compounding Regulations with current USP <797> guidelines related to Beyond Use Dating in sterile and non-sterile compounds. The submitted comments emphasized the need to balance the standards and expectations of safety and quality with patient care needs and access to medications.
New Jersey delays USP <800> requirement: The New Jersey Board of Pharmacy postponed until Dec. 2019 a requirement to comply with USP <800>. It was considering an effective date of July 2018.
Reimbursement Cuts Continue…and So Do We: NCPA again continued to engage and advise pharmacies and state partners this past week regarding the severe MAC reimbursement cuts many of our members are experiencing. With regard to cuts in Medicaid managed care plans, it's important for pharmacists and state partners to: 1) contact your state Medicaid agency to make them aware of the below-cost reimbursement rates, highlight that these reductions may result in decreased beneficiary access to medication, and point out CMS's final rule on network adequacy requirements in Medicaid MCOs; 2) re-examine any state MAC laws for their enforceability and applicability to Medicaid MCOs; and 3) consider 2018 legislation to require MCOs to reimburse at FFS rates and subject MCOs to state MAC laws. Use NCPA comments about Medicaid MCOs in your arguments.
NCPA's Doug Hoey touts pharmacist savings, PBM reforms in Congressional testimony: The House Energy and Commerce Subcommittee on Health held a Dec. 13 hearing entitled "Examining the Drug Supply Chain." The 10-person panel included the entire supply chain, from manufacturers to patients. NCPA CEO Doug Hoey told lawmakers how better integration of community pharmacists can help improve outcomes and lower overall healthcare costs and identified a range of controversial PBM practices including pharmacy DIR fees that warrant greater transparency, oversight and action.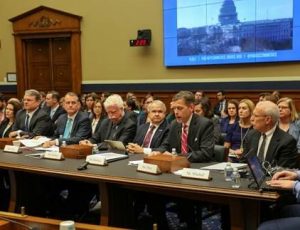 Subcommittee Chairman Michael Burgess (R-Texas) urged the witnesses to develop industry solutions in a collaborative way, noting that industry-developed solutions "may well be better than anything that agencies or lawmakers can impose." Many Reps., including Morgan Griffith (R-Va.), Buddy Carter (R-Ga.), John Shimkus (R-Ill.) and Diana DeGette (D-Colo.) raised serious concern about PBM practices, with Rep. Griffith terming PBMs a "big black box of pricing" and asserting the need for more robust reporting and data on the amount of PBM rebates/discounts being passed onto patients. Rep. Carter sharply criticized DIR "clawback" practices, noting that DIR has grown 22%, while Part D drug costs have only grown 12%. PhRMA's representative repeatedly criticized PBMs' role in rising prescription drug list prices and patient affordability issues. PCMA largely responded by turning the blame back on manufacturers.
Some other specific issues raised include controversy around "co-pay clawbacks" on consumers; insulin price spikes and affordability; legislation to prohibit retroactive DIR fees on pharmacies (H.R. 1038); and CMS' proposed Part D rule and its provision regarding a "lock-in pharmacy" program in Part D. About the latter, Hoey said while NCPA is generally supportive, CMS must remain vigilant to ensure that the voice of the patient is heard, such as in choosing a pharmacy.
Several news articles about the hearing in influential publications highlighted the PhRMA-PCMA debate and lawmakers' criticisms of PBM practices. Full Committee Chairman Greg Walden (R-Ore.) suggested the panel will revisit the prescription drug pricing issue in early 2018.
NCPA staff, copied on this email, did a terrific job on the hearing, particularly VP, Government Affairs and Advocacy Karry La Violette and Director, Congressional Relations Adam Harbison in working with committee staff, Representatives on the committee and their staff.
Watch the hearing here. Hoey's remarks begin at 53:21. Read more in today's Executive Update email.