NCPA member Jake Olson shines at House hearing on compounding: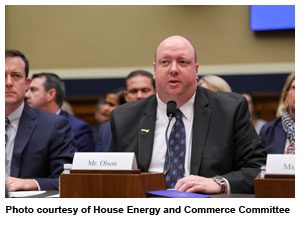 Olson, pharmacist and owner of Skywalk Pharmacy in Milwaukee, Wis., testified before a Jan. 30 hearing of the House Energy & Commerce Health Subcommittee convened to examine FDA implementation of the Compounding Quality Act, enacted by Congress as part of the Drug Quality and Security Act. He stressed the importance of preserving patient access to vital compounded medications in the patient-physician-pharmacist triad; expressed concern that providers lack much-needed clarity which has negatively impacted patient access; and supported bipartisan legislation, H.R. 2871, the Preserving Patient Access to Compounded Medications Act, by Reps. Morgan Griffith (R-Va.) and Henry Cuellar (D-Texas). Olson was also one of just a few witnesses to be featured in a news release published by the Committee's majority staff immediately following the hearing. FDA Commissioner Scott Gottlieb, M.D. pledged to make it easier for pharmacies to register as 503B "outsourcing facilities" and outlined his agency's continued belief that compounding by 503A pharmacies requires a patient-specific prescription, while Rep. Griffith and witnesses representing ophthalmologists and dermatologists disagreed, citing instances of patient harm because providers lack access to compounded treatments for use in office settings. Testimony and other material, including a video recording of the hearing, is available online. Thanks Jake and all the NCPA staff who helped, including Karry La Violette, Ronna Hauser and Adam Harbison.
CMS Part D proposal addresses opioid epidemic, mail order pharmacy: The annual "call letter" contains information on Part C and Part D programs that plans need to take into consideration in preparing their bids for the upcoming year. Of specific note, the draft 2019 call letter released Feb. 1 focused on the following areas that may impact pharmacists:
Opioid Overuse- CMS proposes new strategies to give plans "additional tools to better manage chronic opioid overuse among beneficiaries by ensuring patient-doctor-plan communication regarding opioid use." This includes revising Pharmacy Quality Alliance ("PQA") measures and implementing a supply limit for initial fills of prescription opioids for the treatment of acute pain with or without a daily dose maximum.
Part D Mail-Order Refill Consent Policy- CMS is seeking comments on potential changes to its policy on beneficiary consent prior to shipping refills of mail-order prescriptions. Specifically, CMS requests data to show adherence or cost-savings for beneficiaries under its current policy.
Enhancements to the 2019 Star Ratings and Future Measurement Concepts—CMS adds parameters around the measures that plans can use to determine the quality of and reflect the experience of beneficiaries in Prescription Drug Plans. This year's enhancement proposals include the addition of the Statin Use in Persons with Diabetes ("SUPD") measure. CMS also proposes the removal of the beneficiary access and performance problems ("BAPP") measure.
NCPA will submit comments to CMS encouraging the agency to consider the impact on beneficiaries and pharmacies when setting parameters for 2019 Part D plans.
NCPA Key Legislation Co-Sponsorship Update: Please see key totals below and more details attached. Reminder, NCPA has easy-to-use templates online for taking grassroots action in support of these measures. Please remember to personalize them with your individual experiences.
Pharmacy DIR fees: S. 413: 13 Senators / H.R. 1038: 66 Representatives
Generic drug pricing transparency (or MAC legislation): H.R. 1316: 44
Pharmacy choice in Medicare Part D: S. 1044: 5 / H.R. 1939: 25
Provider status: S. 109: 50 / H.R. 592: 245
Compounding: H.R. 2871: 43
Stakeholders support proposed Part D rule's approach to pharmacy DIR fees: During the comment period on the Medicare Part D proposed rule, NCPA staff reached out to many stakeholders and more than a dozen patient advocates expressed their support for CMS' proposal to apply pharmacy price concessions (aka retroactive pharmacy DIR fees) to point-of-sale. Attached is a compilation of some supportive comments.
Pharmacy groups comment to FDA on REMS Platform Standards Initiative: The Pharmacy HIT Collaborative, of which NCPA is a member, advised the FDA to coordinate REMS activity with HHS' Office of the National Coordinator and to examine the potential impact of "net neutrality" repeal on REMS, in comments submitted Jan. 31 to the agency.
Opioid epidemic activity this week in Washington:
Attorney General Jeff Sessions announced a new crackdown on distributors and pharmacies over the next six weeks. Sessions said DEA will use its access to 80 million transaction reports received annually to "focus on pharmacies and prescribers who are dispensing unusual or disproportionate amounts of drugs."
The Energy & Commerce Committee announced it will hold hearings the week of Feb. 26 to examine various proposals to address the epidemic, as it prepares to advance a legislative package. In addition, the committee expanded its investigation into distribution patterns in West Virginia.
NCPA, others urge "immediate action" on opioid panel's recommendations: The National Conference of Pharmaceutical Organizations – an extensive coalition including NCPA – issued a joint statement to urge action on the recent recommendations from the President's Commission on Combating Drug Addiction and the Opioid Crisis.
FDA Opioid Steering Committee hearing held: NCPA attended and monitored the hearing at which several doctors and advocates for patients with chronic pain cautioned against overlooking the medication needs of those with intractable pain. Other stakeholders raised issues including enhanced PDMP functionality; seven-day limits on prescriptions for acute pain; and required electronic prescribing of controlled substances.
The Senate Finance Committee sent a letter Feb. 2 soliciting ideas to address the epidemic: Specifically, Chairman Orrin Hatch (R-Utah) and Ranking Member Ron Wyden (D-Ore.) invited suggestions how the Medicare and Medicaid programs can better prevent and treat addiction. They asked for responses by Feb. 16. NCPA is reviewing the letter.
Pharmacists say PBM reimbursement for Tamiflu often fails to cover costs: According to an NCPA survey of independent pharmacy owners, 88 percent of respondents said that in the past 60 days they have experienced multiple incidences of reimbursements for Tamiflu or oseltamivir at rates below the pharmacy's acquisition cost for the medication. NCPA's publication of the survey raises awareness of the problem and pressure for PBMs to revisit the practice.
President Trump's State of the Union speech cites prescription drug prices, opioid epidemic and 'right to try' legislation: Of interest to pharmacy, President Trump's Jan. 30 address directed his administration to make "the injustice of high drug prices one of our top priorities"; expressed renewed concern over "the terrible crisis of opioid and drug addiction"; and encouraged Congress to enact "right to try" legislation to give terminally ill patients easier access to experimental treatments still subject to FDA approval. One day earlier HHS Secretary Alex Azar was sworn into office and, later in the week, accepted the resignation of CDC Director Dr. Brenda Fitzgerald amid questions over her financial holdings and potential conflicts of interest. Longtime CDC official Dr. Anne Schuchat was designated Acting Director.
USP Offers New Mobile App on Hazardous Drugs: USP has released a mobile app that combines information from three data resources (NIOSH, RxNorm, General Chapter <800>) to help identify hazardous drugs at the point of practice and to inform health care workers about measures to take to help reduce their risk in accordance with established standards. Click here to download HazRX.
Webinar Feb. 14: What's in Store for Community Pharmacy in 2018: Learn how NCPA is crafting a strategy to forward members' advocacy priorities and provide business solutions for you during an NCPA Innovation Center webinar Feb. 14.  NCPA CEO Doug Hoey will share the legislative and regulatory actions NCPA is recommending to policymakers to protect the interests of community pharmacists and the patients they serve. The webinar is FREE and open to all pharmacists and technicians. (CE credit available only to those participating in the entire live webinar.)
In the states:
Arkansas pharmacists make significant impact in meeting on pharmacy reimbursements: On January 31, the Arkansas House of Representatives Healthcare Marketplace Subcommittee held a special meeting on pharmacy reimbursements where legislators were able to hear testimony from pharmacists and others about drastic reimbursement cuts to Medicaid expansion plans in the state. Kudos to the Arkansas Pharmacists Association leaders for masterfully presenting a story that more policymakers need to hear, and kudos to the 250 pharmacists who showed up from across the state to show support for their profession and their small businesses. Read more online.
Mississippi HB 709 passes House: A bill in Mississippi preventing PBMs from prohibiting pharmacists' ability to provide information to their patients regarding the options that patient has in paying for prescription medications has passed the Mississippi House of Representatives and will move on to the Mississippi Senate. NCPA commends the Mississippi Independent Pharmacies Association for its excellent work in advocating for the bill and for the interests of Mississippi's independent pharmacists.
Medicaid managed care reimbursement: NCPA is urging state partners to take one or more of these actions during the 2018 legislative session:

Amend the state's MAC law to explicitly state that the law applies to Medicaid Managed Care organizations.
Explicitly to prohibit reimbursements under Medicaid Managed Care that are less than the fee-for-service rate (in other words, making FFS rates the reimbursement floor under MMC).
In statute carve the prescription drug benefit out of MMC entirely and require that it be administered by your state Medicaid at FFS rates.
NCPA's state affairs team can assist your association or group with legislation. Contact matt.magner@ncpanet.org for information.